Rooted at America's crossroads, you'll discover a community on the grow - Sully, Iowa. At first glance, you might note the first-rate schools defined by a legacy of academic, artistic, and athletic achievement. You may appreciate the active churches and civic groups that contribute to Sully's distinctive community pride. And you could see the vibrant local business economy fueled by agricultural, manufacturing, and service excellence.
So whether you're a visitor, potential resident, or current resident , we welcome you – it is our hope this site gives you a glimpse into why generations continue to call Sully home. As you already know or will learn, Sully is a small, agricultural town bound by faith, family, and a deep-rooted community pride.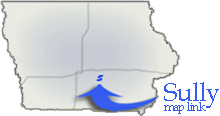 Sully is most often recognized by our excellent school systems – Lynnville-Sully and Sully Christian. Others know Sully because of our central location between Grinnell, Newton, and Pella.  So whether you're a current resident, a potential new resident, or a visitor – we hope this site will inspire you with the spirit of Sully.