Rooted at America's crossroads, you'll discover a community on the grow - Sully, Iowa. At first glance, you might note the first-rate schools defined by a legacy of academic, artistic, and athletic achievement. You may appreciate the active churches and civic groups that contribute to Sully's distinctive community pride. And you could see the vibrant local business economy fueled by agricultural, manufacturing, and service excellence.
So whether you're a visitor, potential resident, or current resident , we welcome you – it is our hope this site gives you a glimpse into why generations continue to call Sully home. As you already know or will learn, Sully is a small, agricultural town bound by faith, family, and a deep-rooted community pride.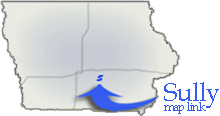 Sully is most often recognized by our excellent school systems – Lynnville-Sully and Sully Christian. Others know Sully because of our central location between Grinnell, Newton, and Pella.  So whether you're a current resident, a potential new resident, or a visitor – we hope this site will inspire you with the spirit of Sully.
Sully Mayor Gordon Yarrington and his wife Nancy welcome you to Sully on behalf of the city council and city employees. Sully was founded in 1882. The last census reports 821 people living here. Our small city has a large potential, and we are proud of the many things the city has to offer. Our two outstanding schools, many businesses, churches, and parks help provide a wholesome, comfortable, small hometown feeling. We are fortunate to have you added to the great citizens that already call Sully home. Our city website is sullyia.com. Our local newspaper is the Hometown Press. I hope you feel great about moving here, you feel welcome to the community, and you enjoy all the great opportunities your new community offers. I trust you start your new life in your new home with a friendly face-to-face exchange with our businesses and if you have any questions please seek out the City Clerk, Barb Maasdam, Myself or my wife, Nancy, we would love to help you in anyway we can and make your transition to Sully as smooth as possible.